History
Curriculum Statement - History at Stamshaw Junior School
Intent
All planning should be driven by the aims:

To provide the foundations to understand, question and explain historic events and how they have shaped our world.

To develop a sense of excitement and curiosity about history.
To have the skills to understand:

Chronology, make historical enquiries, make historical interpretations and have an understanding of events, people and changes as well as organise and communicate their findings.
Implementation
We promote learning through EPIC lessons, so they are excited about history and develop curiosity about things have happened in the past.
Our children learn best when they are inspired about what they are learning. This will encourage thinking and enable them to raise their own questions.
We provide opportunities for practical enquiry and research, where children can discover learning for themselves.
Impact
We want to encourage the children to become independent learners, who have the skills to question the world around them and be able to answer their own questions.
We develop children's historic knowledge and conceptual understanding, because this will ensure the children have a rich foundation of history, allowing them to discuss and deepen their understanding further.
History Ready to Progress Statement
Ready to Progress
By the end of lower key stage 2:

Changes in Britain from the Stone Age to the Iron Age

The Roman Empire and its impact on Britain

Britain's settlement by Anglo-Saxons and Scots

The Viking and Anglo-Saxon struggle for the Kingdom of England to the time of Edward the Confessor
By the end of upper key stage two:

A local history study

A study of an aspect or theme in British history that extends pupils' chronological knowledge beyond 1066

The achievements of the earliest civilizations – an overview of where and when the first civilizations appeared and a depth study of one of the following:

Ancient Sumer; The Indus Valley; Ancient Egypt; The Shang Dynasty of Ancient China

Ancient Greece and a study of Greek life and achievements and their influence on the western world
A non-European society that provides contrasts with British history – one study chosen from: early Islamic civilization, including a study of Baghdad c. AD 900; Mayan civilization c. AD 900; Benin (West Africa) c. AD 900-1300.
Curriculum Overviews
Lower Key Stage History Overviews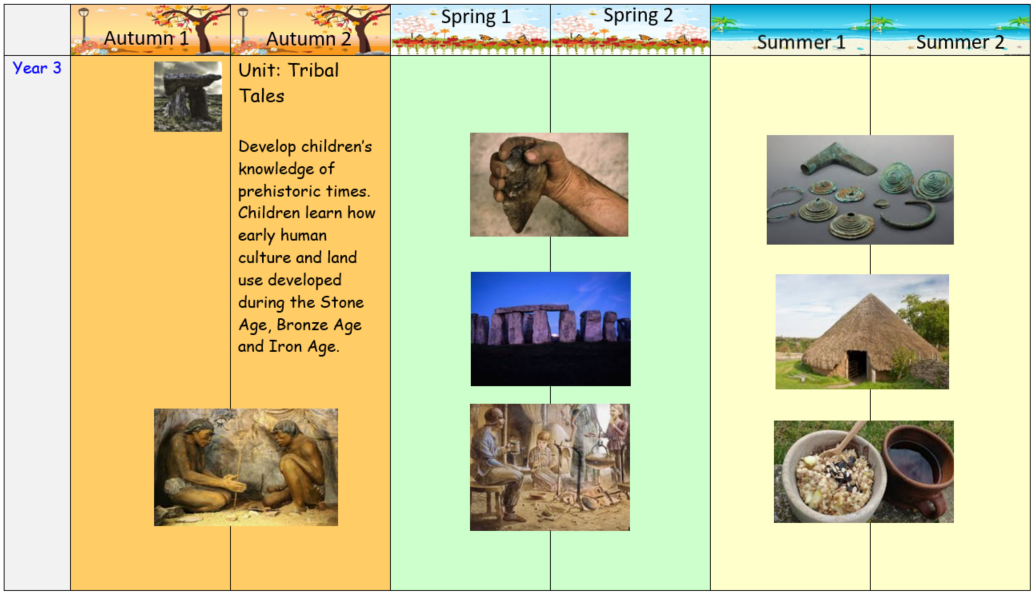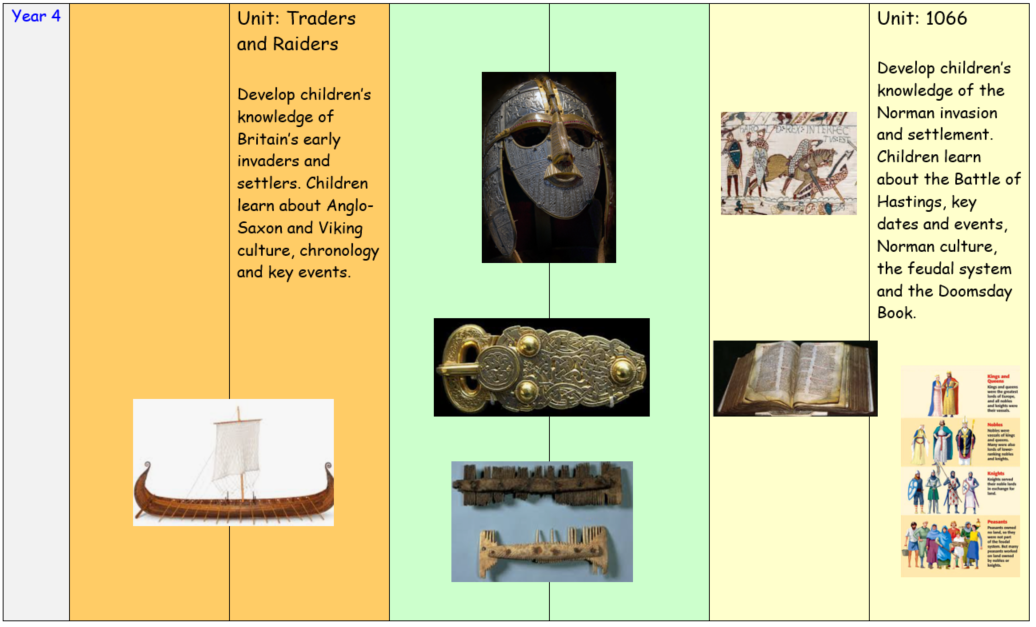 Upper Key Stage History Overviews