Report an Absence
If you are worried that your child isn't well enough for school, please check the following link for more information:
Is My child too ill for school?
If your child will not be attending school due to illness please contact us by 8:45am using the details below: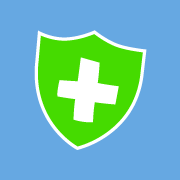 Studybugs
Studybugs is an efficient and secure system for reporting your child's absence due to illness.
Download the free Studybugs app, or register on the Studybugs website, and use it to tell us if your child's ill and unable to attend school.

Medical Appointments and Medicine Administration
If your child has a medical appointment, please send them to school and collect them after registration. It is also important to return children to school after appointments so that they are here for afternoon registration and lessons.
We are happy to supervise the administering of prescription medicine if parents have given us their written consent, this can support your child to return to school.
To do this please complete a medical consent form and bring it in to the school office.
In exceptional circumstances we will administer non-prescription pain relief. Please speak to Mrs Smith in the school office to request this.
Please ask at the school office for more information.

Leave of Absence
Headteachers may not grant any leave of absence during term time unless there are exceptional circumstances.
This means that we will not authorise leave of absence for family holidays during term time, unless we are satisfied that there are exceptional circumstances.
Please ask at the school office for more information.
Thank you for your support in these procedures.