TT Rock Stars - GUINNESS WORLD RECORDS®
Previous Story
Next Story
Have you got what it takes to become a GUINNESS WORLD RECORDS® title holder?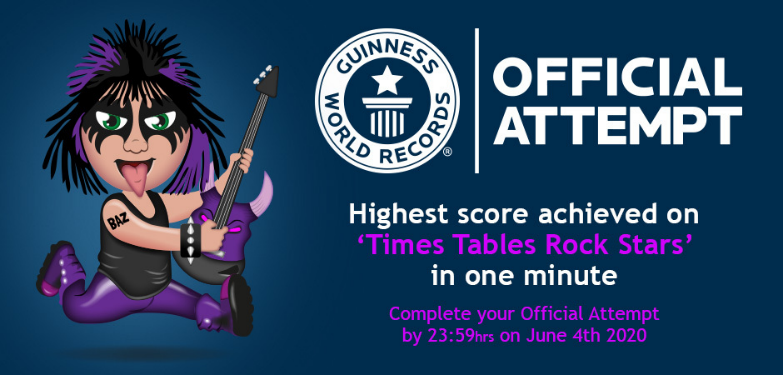 TT Rock Stars invite you to attempt to achieve the GUINNESS WORLD RECORDS® title of
Highest Score Achieved on 'Times Table Rock Stars' in One Minute
To make an Official Attempt, players need to record a video of themselves achieving their highest score in the Studio* and send the video to support@mathscircle.com by 23:59 UK time on 4th June 2020.
*Studio games go up 12×12 and include corresponding division facts
*PARENTAL PERMISSION REQUIRED*
---
All pupils, whether they make an Official Attempt or not, can share their efforts with us at Stamshaw.
We would love you to send your attempts to your class teacher and share them on our website too!
3B - Mr Barrand

3b@stamshawjun.org.uk

3P - Mrs Piper

3p@stamshawjun.org.uk

4S - Mr Schillemore

4s@stamshawjun.org.uk

4T - Mrs Tankard

4t@stamshawjun.org.uk

5B - Mr Bosnic

5b@stamshawjun.org.uk

5W - Mr West

5w@stamshawjun.org.uk

6B - Miss Bushell

6b@stamshawjun.org.uk

6SW - Mrs Smout & Mrs Weatherston

6sw@stamshawjun.org.uk
Good Luck!